1930 Ford Model A Cabriolet / Photos and Specifications
The automobile featured in this article is a superbly restored 1930 Ford Model A Cabriolet. The detailed restoration along with the rumble seat on this vehicle makes the car look fantastic.

The New and Improved Ford Model A
The Ford Model A's took the place of the famous Model T's. Model T's had been around for quite some time and during the early 1920′s sales began to decline. More competition was entering the picture. Even with these competitive issues it took a good deal of persuasion to talk Henry Ford into coming out with a new car model. This was a characteristic of the old automaker. Ford had a habit of not wanting to tinker with what he thought was a good car. Competitive pressures made Ford agree to changes that he didn't feel were necessary. A good example were the Ford brake systems that remained mechanical for a period after General Motors introduced their hydraulic braking system.
The Ford Model A's were designed by both Henry Ford and Edsel Ford. The Ford Model A was produced from 1929 through 1931. Ford used the body designations 68A, 68B and 68C. The Briggs Body Company built all of the Cabriolet bodies for Ford. TheCabriolet is a convertible with glass side windows, unlike the canvas side curtains found on many other roadster models.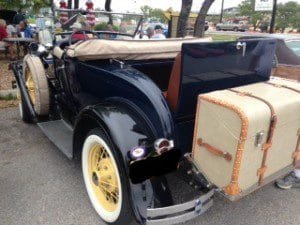 The Ford Model A was offered in many different styles. These included a coupe, sports coupe, roadster, cabriolet, towncar, fordor, truck, station wagon and taxicab. All of the various Model A's acquired a reputation as being ruggedly built.
1930 Ford Model A Cabriolet Specifications
The 1930 Ford Model A came with afour cylinder 205 cubic inch 3.3 liter engine delivering 40 HP. The 1930 Model A's engine produced twice the power of previous Model A engines. Top speed was estimated at 65 to 70 MPH.
The wheelbase was 103.5 inches. The car's transmission was a three speed manual.
Brakes were four wheel mechanical. This was a significant change from the old Model T days when those automobiles had only two wheel brakes.

Seating capacity was 5.
Vehicle weight was between 2,155 and 2,495 pounds. New vehicle price ranged from$450 to $650 which reflected the slow economy that year.